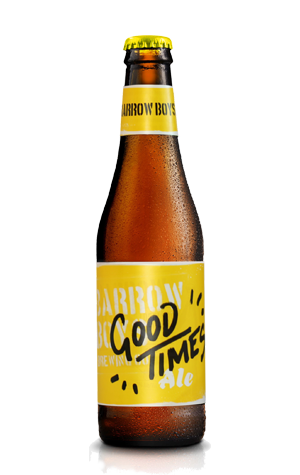 BARROW BOYS BREWING CO.
Barrow Boys came together with years of experience from those within the brewing and hospitality industries. For one reason or another, we were all looking for a new challenge and came together through our shared love of Melbourne, craftsmanship and more importantly, beer.
Our name came from exploring around North Melbourne, where we first planned to build. The historical markets were integral to this part of town and so we started digging a little deeper. We soon found a reference to the 'Barrow Boys' and how they were the original market vendors, selling fresh local produce to the local community. They were always ready to roll up their sleeves and get the job done, but also let themselves have a lot fun along the way, bantering in the marketplace and keeping spirits high.
Sure, Australia could live without another craft beer, cold drip coffee, or stitch and bitch workshop. But we really love beer and felt we had to brew and share our own creations. We could talk about them all day (with a beer in hand of course) but you probably have other things to do.
sold out
GOOD TIMES ALE
Good Times Ale was crafted for your enjoyment through fun times & shenanigans, with all the goodness we could muster. It doesn't take itself too seriously and certainly isn't shy!
It's a flavoursome yet easy drinking session ale, packed with fresh hops. A touch of wheat and some light crystal malts help create a light golden colour, full body and leave a smooth subtle sweetness. American grown Citra and Chinook hops give the beer a fresh citrus & vibrant piney aroma, and also a balanced bitter finish.
Alcohol: 3.8 %
Bitterness: 28 IBU
Hops: Citra & Chinook
STORMY LAGER
Stormy Lager was inspired by Melbourne's weather. Like the chilled rain, stiff wind and brooding slate sky that can appear on any given day, it's full of character. Lager doesn't have to be boring.
Stormy Lager is a fresh, highly drinkable, malty chestnut coloured lager. Delicate hops balance the biscuity aroma and taste, leaving a quenching bitterness. Selected specialty malts and a slower brewing process create a beer that's crisp and sharp, but softened by a touch of caramel – like a bittersweet memory you can drink.
Alcohol: 4.7 %
Bitterness: 28 IBU
Hops: Helga & Perle
PEDLARS PALE
Pedlars Pale was an idea sparked from the bustling markets of Melbourne, inspired by the fresh produce and the characters peddling it.
It's an abundantly hopped beer, one that's light in colour but not in flavour. Malt provides the balance to its assertive bitterness and hoppy bouquet, while dry hopping with fresh local varieties adds tropical fruit and resinous characters. Residual live yeast helps maintain its natural freshness, resulting in a distinct, hazy Pale Ale.
Alcohol: 5.3 %
Bitterness: 45 IBU
Hops: Local Cascade, Ella & Vic Secret